We decided to put our cards on the table (pun intended) and give you a full rundown of the registration process at Fenikss Casino. 😎 It's located in beautiful Latvia, but no matter where you are, we want you to have the best gaming experience possible. Let's shuffle up and deal, shall we?
The Registration Rollercoaster 🎢
✅ Take a deep breath and start the ride! Here, you'll fill in the basics: your first name, last name, date of birth, country of residence, and the personal tax code that every Latvian has (super cool, right?). Oh, and don't forget to choose your gender!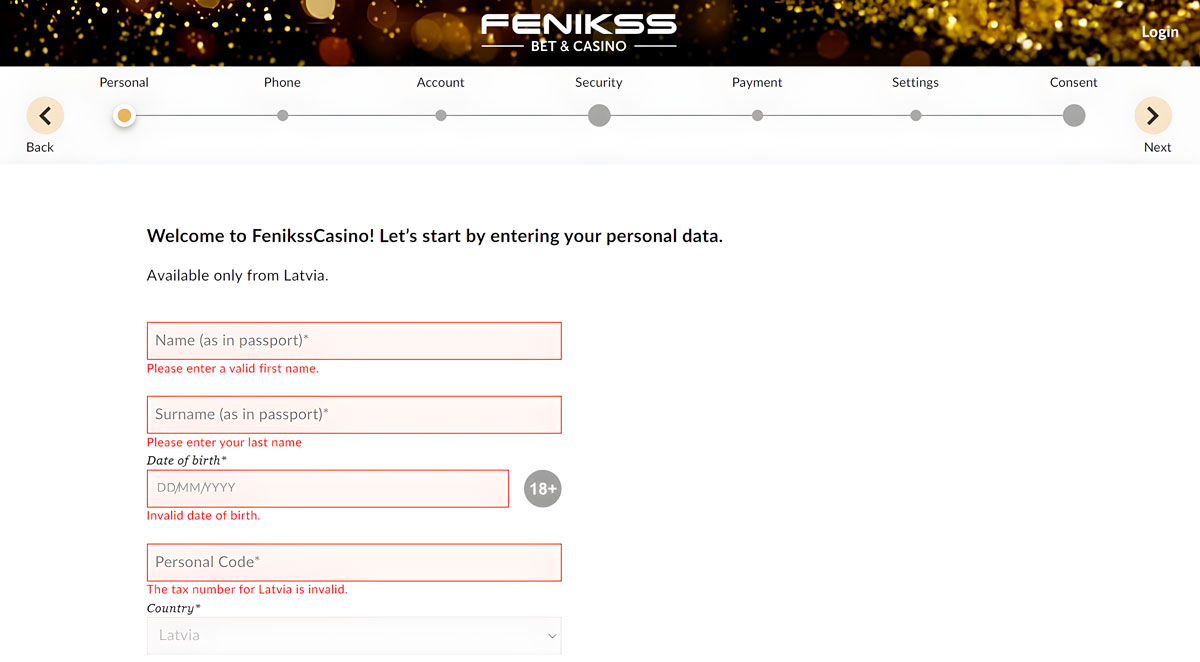 ☎️ Cruise to step two: Here, they'll ask for your phone number. Make sure it's valid, folks.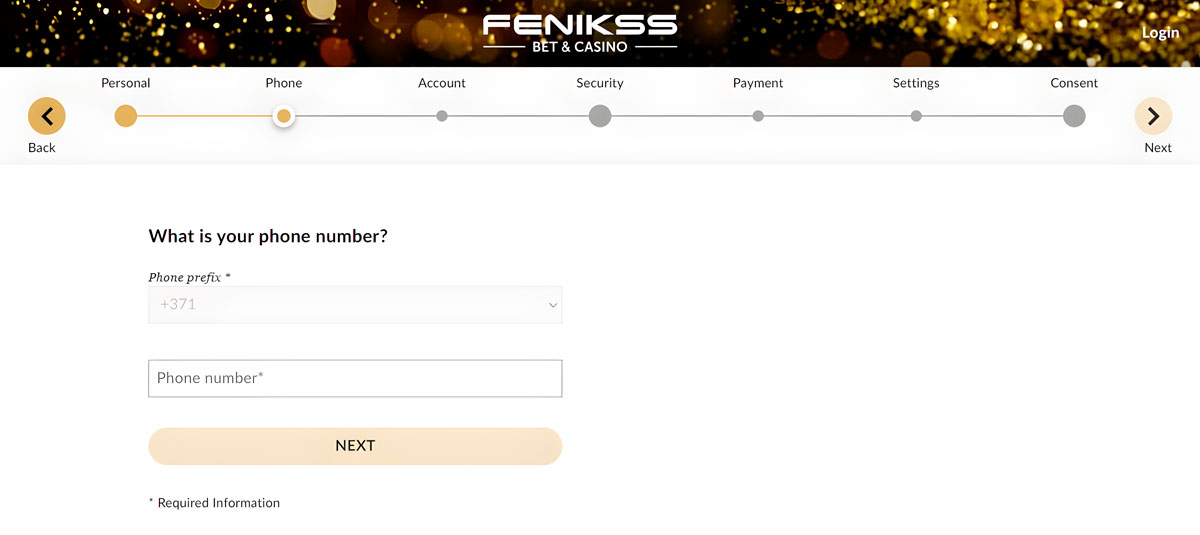 📧 Hold on tight for the third loop: This is where you'll create your unique login and password and provide a working email address.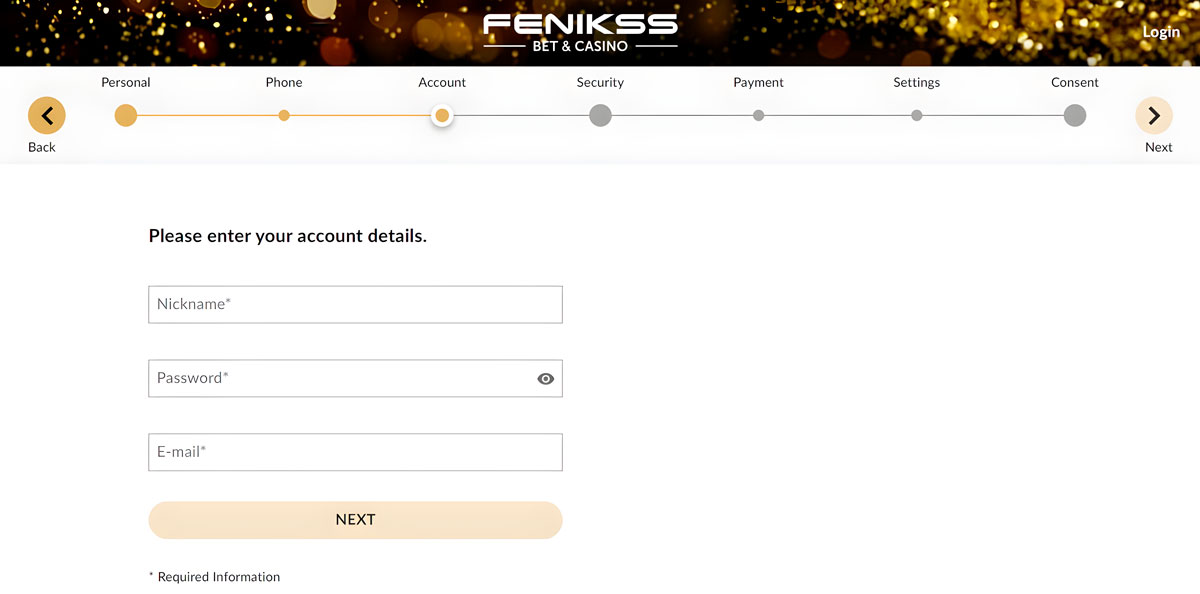 🤔 Next, you're at the security question peak: Better remember your answer, just in case you forget your casino password (hey, we all have those moments!).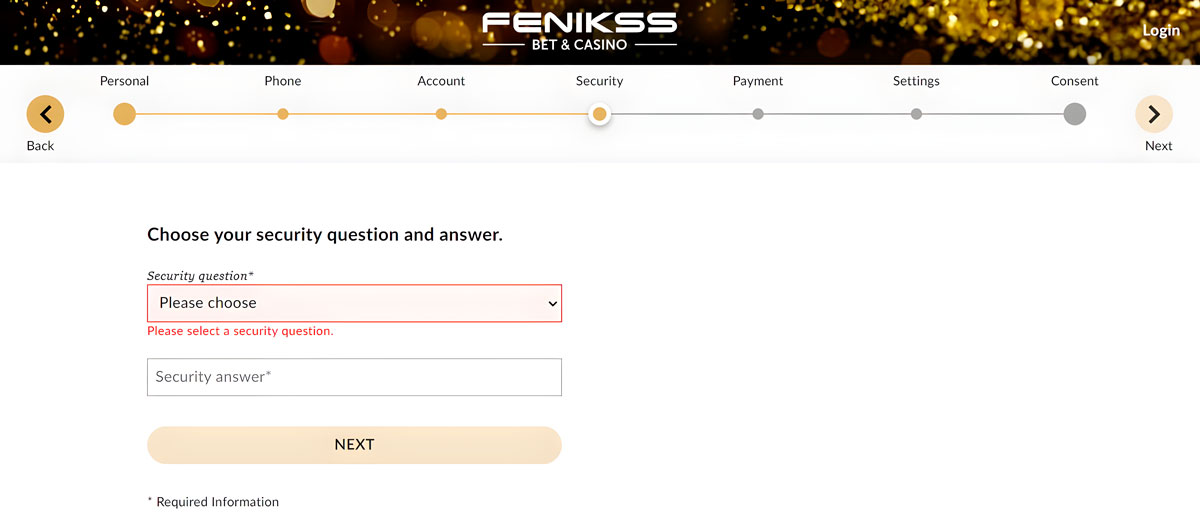 💳 Whoosh, now you're entering the banking zone: You'll need to enter your IBAN and BIC. Be extra careful with this step, alright?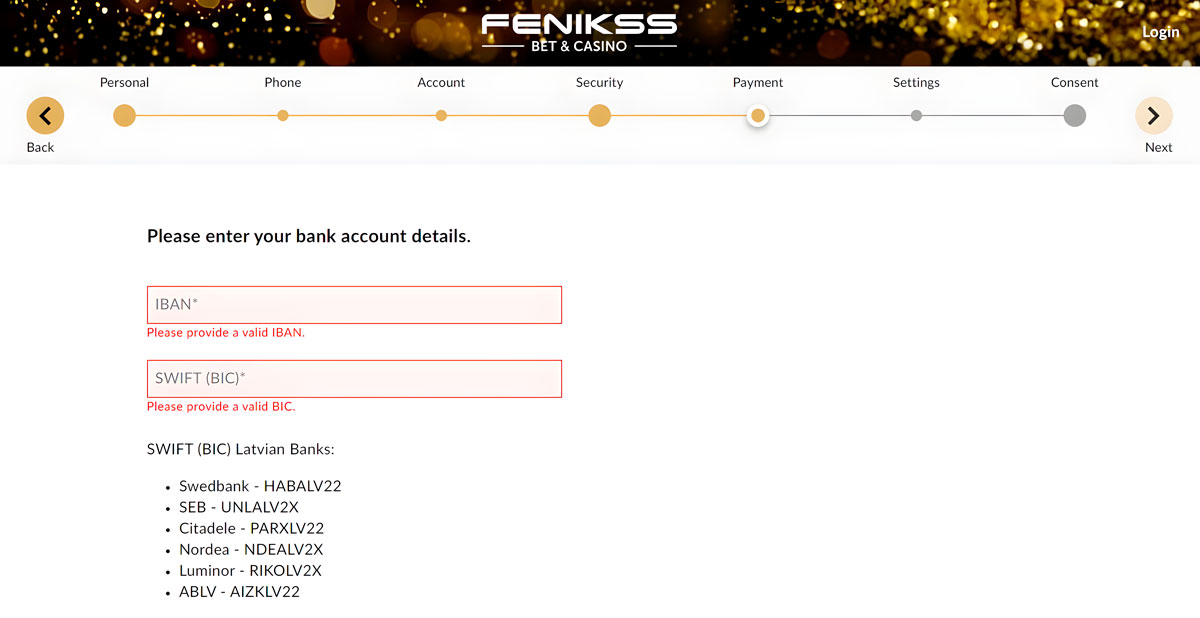 🎲 Set your game limits in the next phase: Only you know your playing style and limits!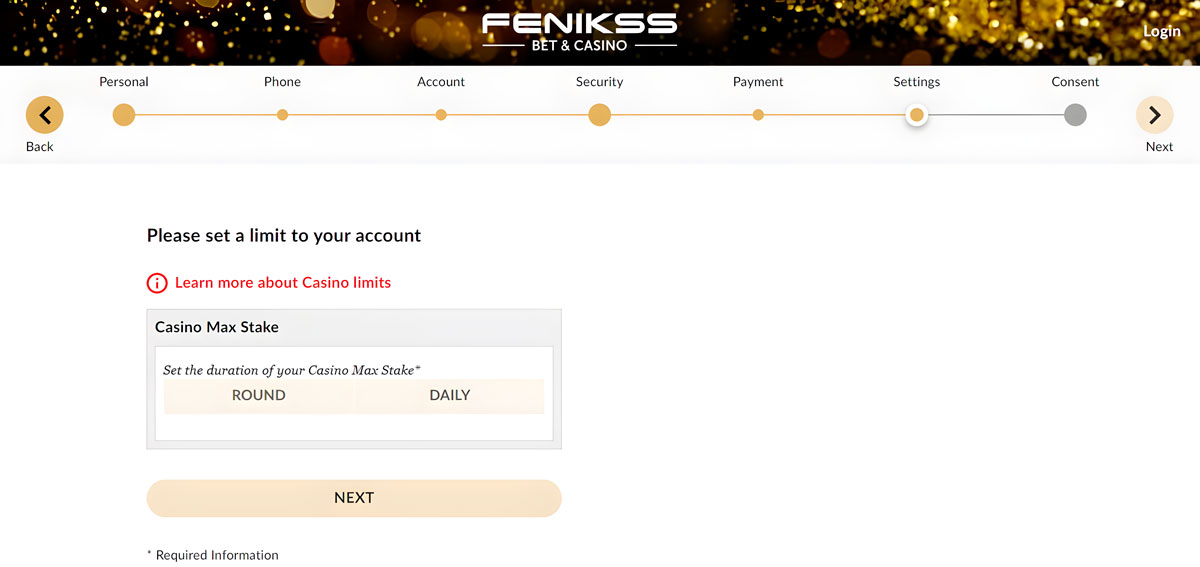 📝 Almost there! You've reached the terms and conditions checkpoint: Make sure you agree with everything before you tick that box. Oh, and if you like promos and offers, you might want to sign up for those too! And bam, you're done! But, here's a little heads up: if your deposits or winnings reach €2,000, they may ask you to send some documents for security purposes. Not too shabby, eh? 🎉
Account Verification Voyage 🛳
Fenikss Casino values your safety above all else, which is why you'll need to verify your account before you can start playing. Sure, it's a little extra work, but hey, better safe than sorry, right? 😇
In your account dashboard, you'll find the "Account Verification" section. Here's how to navigate through the options:
💰 Verifying by bank transfer: Simply send a minimum of €0.01 to the provided bank details using a registered Latvian bank account. Once the payment's confirmed, a green tick with the word "Confirmed" will appear in your account verification section. Simple as that!
💌 Verifying bank account ownership: Upload a statement from your bank account under the "Payment Services" section, and then hit the "Save" button. If you're facing issues, don't worry! You can email your bank account statement to

[email protected]

, and they'll help you out.
📑 Profile verification: They might ask you for some documents if your deposits or winnings reach the €2,000 mark. This is just to make sure that you are you. An important note: A driver's license isn't a valid document for this process. Instead, they accept bank transfers, Smart-ID, and electronic signature methods.

Entering the Gateway to Fun 🏰
Now, we're diving into account management and troubleshooting. So, fasten your seatbelts, and let's roll! 🚀 Signing into your account is a breeze, here's how:
Hit that login button on the homepage.
Enter your magical login and password combo.
And voila! You've teleported into your personal account!
Your account comes equipped with a few handy sections:
💰 Cashier: where you handle all your financial transactions;
📝 Data: stores the info you provided during registration;
⚖️ Balance: a real-time display of your account balance;
💸 Bonus Account: a showcase of your reward funds.
Game Over? Not Yet! Troubleshooting Tips! 🛠️
We all hit a few bumps on the road to gaming glory, but fear not! We've got you covered:
Changing Bank Account: It's simple! Send a small bank transfer of €0.01 or more to the provided bank details using a registered Latvian bank account. Don't forget to add your username and 'change of bank account' in the payment purpose 🏦🔄
Switching Email Address: Just navigate to the "ACCOUNT" – "ACCOUNT DATA" section in your profile and follow the instructions. Easy peasy lemon squeezy 🍋📧
Forgetful Mind? No problem happens to the best of us! To recover your password, simply press "login" – "CONNECTION DIFFICULTIES" – "FORGOTTEN PASSWORD" and follow the steps. If you've forgotten your username or email address, reach out to their customer service by phone (+371 67301090) or email ([email protected]) 🙆‍♂️🔍
Identity Verification Issues? Remember, you should only confirm your identity using the methods available in the "ACCOUNT VERIFICATION" section: bank transfer, Smart-ID, or electronic signature. Documents are only required upon request 📜👤
Wondering about the Customer Survey Questionnaire? It's a legal requirement that Fenikss Casino regularly updates information about its customers. This questionnaire comes into play when:
Your payments or contributions reach €2,000.
You're a politically exposed person or a family member of one.
You're associated with a high-risk third country.
The questionnaire is due for renewal. 🗂️🔎
Questionnaire Rejected? This can happen if the questionnaire is not fully completed or if the provided information is incorrect or incomplete. Triple-check before you hit submit, folks! 📝✖️
Application Processing Time? Your application will be pending for about 1 day, even on holidays. Keep in mind, you can't make payments or contributions until it's approved ⏰⚠️
Need a Break? We all do sometimes. You can apply a "game break" for a certain period, or permanently close your account by sending an email to [email protected]. Remember, it's okay to step back and take some time for yourself 🛑🏝️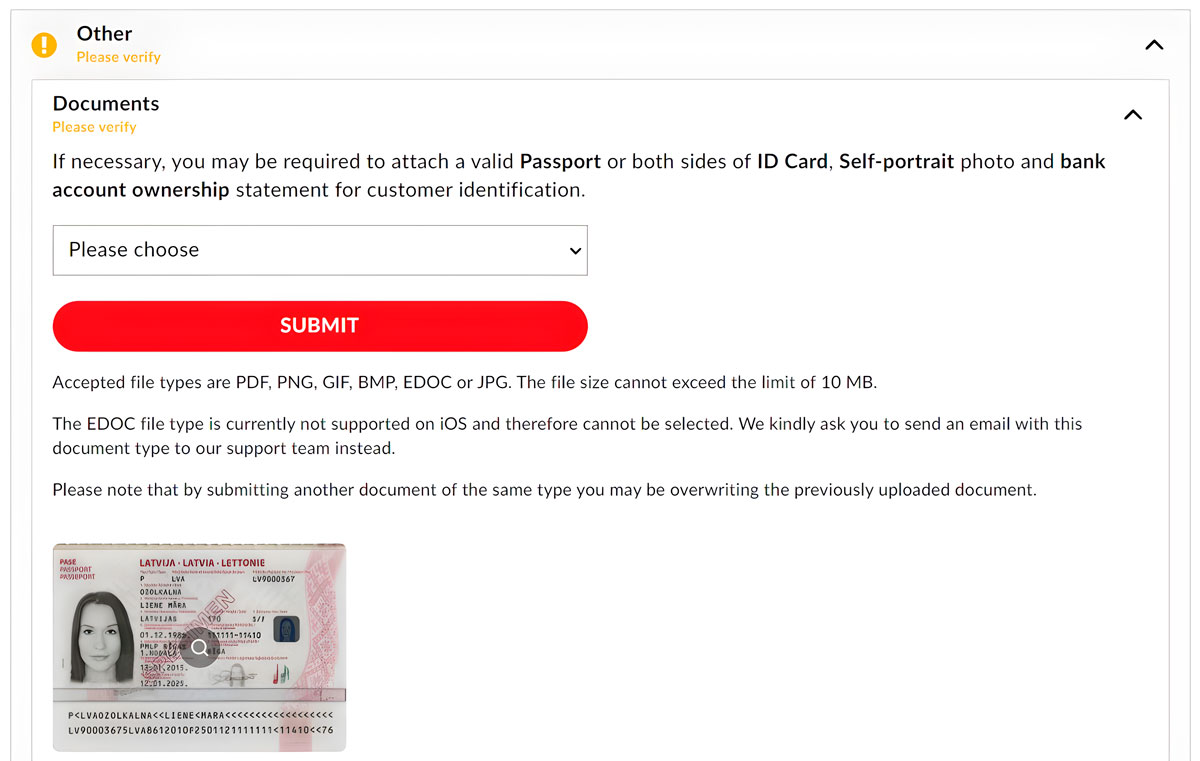 Customer Service 📞☎️
Getting in touch with customer support? It's as simple as scrolling to the foot of the Fenikss Casino homepage. Here are the options you've got:
Live Chat: Hmm, looks like the platform doesn't offer this feature yet. 🚫💬 Not an ideal scenario, especially if you're someone who likes speedy replies. But who knows? They might add this feature in the future! 🤷‍♂️
Email: Now, this is more like it! You can reach them at

[email protected]

📧 Nothing beats a good old email, especially when you have detailed queries or issues to discuss.
Phone: Prefer a more personal touch? Give them a call at +371 673 010 90 📞 Yes, human interaction is not extinct yet! 😉
FAQ Page: Got a quick question? Chances are you'll find your answer in the Frequently Asked Questions section. Visit https://www.feniksscasino.lv/en/help for a possibly instant solution. 🌐💡
Contact Page: For a more formal approach, you can always fill out their feedback form at https://www.feniksscasino.lv/en/contact 🖊️📃 Just like sending a letter, but faster!
Now, let's talk business hours. The support service is available from 8:00 AM to midnight. While we would have loved a 24/7 service, it's nice to know that their support staff gets some well-deserved rest. 😴 Plus, they're available seven days a week, so you're never left stranded! 📅✅ On the downside, the absence of a round-the-clock online chat or casino channel on popular messengers could be seen as a bummer for some users. But hey, no one's perfect, right? 🤷‍♀️
Frequently Asked Questions ❔
Conclusion 🔥
Wrapping up, it's clear that Fenikss Casino has put a lot of thought into making its registration and account management process as user-friendly as possible. It's refreshing to see a platform take its regulatory duties seriously – not just to tick a box but to ensure that we, the players, are protected and can game with peace of mind. 😌
However, it's not all rainbows and butterflies. There are quite a few steps involved in the sign-up process and the lack of immediate account activation (due to the mandatory verification process) might seem like a drag for those itching to get started. 🐢 We can't forget to mention the option to self-impose a 'game break', showing that they do care about promoting responsible gambling. Kudos to Fenikss for that! 👏
While the account management process is detailed and informative, be ready for some paperwork if you hit that €2,000 mark – the customer survey questionnaire comes into play here. But hey, that's the price of security, right? 🛡️
Overall, as with any online platform, there's always room for improvement, and while Fenikss isn't perfect, they've done a good job of creating a secure environment for us to enjoy our gaming experience. So grab a drink, settle down, and let's roll those virtual dice! 🎲
Remember folks, when the fun stops, stop. 🛑 Play responsibly! Happy gaming! 🎉