Fenikss Casino Live: A Review of the Real-Time Casino Experience 🎲
From the gleaming aura of Vegas to the vibrant scenes of Macau, the allure of casino floors is undeniable. But what if we told you that you don't need to go the extra mile, or even change out of your PJs to get your casino fix? 🙂 Thanks to some nifty tech, this is where Live Casino Gaming comes into the picture, aiming to bring the thrills of traditional gambling straight to your living room or mobile device. Let's delve deeper into what this innovation has in store.
🎲 What is Live Casino? 🎲
Live Casino gaming is an interesting mashup of online and traditional casino play. Unlike the usual online gaming, where the outcome is determined by random number generators, live games are handled by real human dealers. They deal with the cards and spin the roulette wheel live, in real time. Thanks to HD streaming and interactive features, it feels like you're at a physical casino, even if you're cozied up on your couch or out and about.

Games Galore at Fenikss Live Casino 🃏
When it comes to games, the live casino section seems to have left no stone unturned. From timeless classics to their exciting variants, the selection appears pretty impressive. So, let's go!
🎡 Let's Spin: Roulette at Fenikss 🎡
Roulette, the ultimate game of chance, makes you bet on where a tiny ball will stop on a spinning wheel. The betting is diverse, with options from a single number to red or black, and even to odd or even numbers. So what's the deal at Fenikss?
Auto French Roulette: Like the traditional French Roulette, but automatic and quicker. Perfect for those who like their roulette fast and furious!
Live Casino Instant Roulette: This is roulette with a twist! Multiple synchronized Auto Roulette wheels spinning, with balls dropping in sequence. You can take your sweet time to bet before hitting "Play Now".
Casino Malta Roulette: This version transports you to the lap of luxury in Malta's plush casinos. A mini vacation, anyone?
Grand Casino Roulette: Set in a historical casino, this game promises an immersive roulette experience. Ready for a trip back in time?
Speed Roulette: This is roulette on steroids! With just 25 seconds from spin to spin, it's all go, go, go!

♠️ Aces High: Blackjack at Fenikss ♠️
Blackjack, or 21, has you trying to draw cards as close to 21 as possible without busting. Oh, and you also have to beat the dealer's hand! Strategy and luck go hand in hand here. Here's what Fenikss has in store:
Blackjack Platinum VIP: This one's for high rollers who love a premium blackjack experience. Fancy a go at the big leagues?
Blackjack Diamond VIP: A high-stakes game that promises an exclusive blackjack experience. All that glitters can be blackjack!
First-Person Blackjack: This version puts you in the hot seat with a unique first-person perspective of the blackjack table. It's just you and the game.
Live Casino Classic Speed Blackjack: Fast decisions make for a quick game. You'll be on the edge of your seat!

Betting it All: Baccarat at Fenikss ♦️
Baccarat is an elegant affair where two hands are dealt – one for you and one for the banker. You bet on which hand will be closest to nine, or on a tie. Simple yet sophisticated. Here's what you can expect on the platform:
Speed Baccarat C: A high-speed version of Baccarat where a new round starts every 27 seconds. Can you keep up?
No Comm Speed Baccarat: Here, there's no commission on the banker bet and rounds start every 27 seconds. More bang for your buck!

🎥 Game On: Game Shows at Fenikss 🎥
If you want a break from the traditional casino games, Fenikss has some TV game show-inspired offerings that might just tickle your fancy:
Monopoly Big Baller: This unique live online game has elements of the beloved board game. Fancy being Mr. Monopoly for a day?
First-Person Mega Ball: This exciting, lottery-style game features a multiplier and a potential jackpot. Are you feeling lucky?
The crux of it all is that every game at Fenikss aims to deliver an authentic casino experience right to your screen. The platform seems to have some tricks up its sleeve to enhance the Live Casino experience:
HD streams: The high-quality video streams promise to create a lifelike casino atmosphere right on your screen. It's almost like being there!
Multi-angle cameras: These offer a bird's eye view of the table, ensuring transparency and adding a dash of reality to the game.
Interactive chat feature: With this, you can chat with the dealer and other players, making your gaming experience a whole lot more social. Let's get chatty!
Personalized interface: You can adjust the game settings to your liking, including video quality, sound levels, and viewing options. Game on, your way!
Game statistics: Detailed stats offer insights that might just help you make smarter betting decisions. May the odds be ever in your favor!

🚀 Taking the First Steps at Fenikss Casino's Live Casino 🚀
As we jumped into Fenikss Live Casino universe, we found that setting up is a breeze. Here's how you do it:
1️⃣ Sign Up: You need to fill out a straightforward form to create your account. Quite easy-peasy, we'd say!
2️⃣ Verification Process: This step is all about making sure your account is secure. You verify your account by providing the necessary identification documents. It's like your digital passport!
3️⃣ First Deposit: Time to put your money where the fun is. Make your first deposit using any of the available secure payment methods. Don't worry; the platform uses top-notch encryption tech to keep your transactions safe.
4️⃣ Choose Your Game: Time to explore! Browse the long list of live casino games on offer. Whether it's live roulette, blackjack, baccarat, or poker, the casino has you covered.
5️⃣ Let the Fun Begin: Get familiar with the game rules and dive in. You're all set for an authentic casino experience from your comfy couch.
The minimum bet per game is a humble 0,10 EUR, while the high rollers can go up to 10,000 EUR! Just check the limits when you're connected to a game table.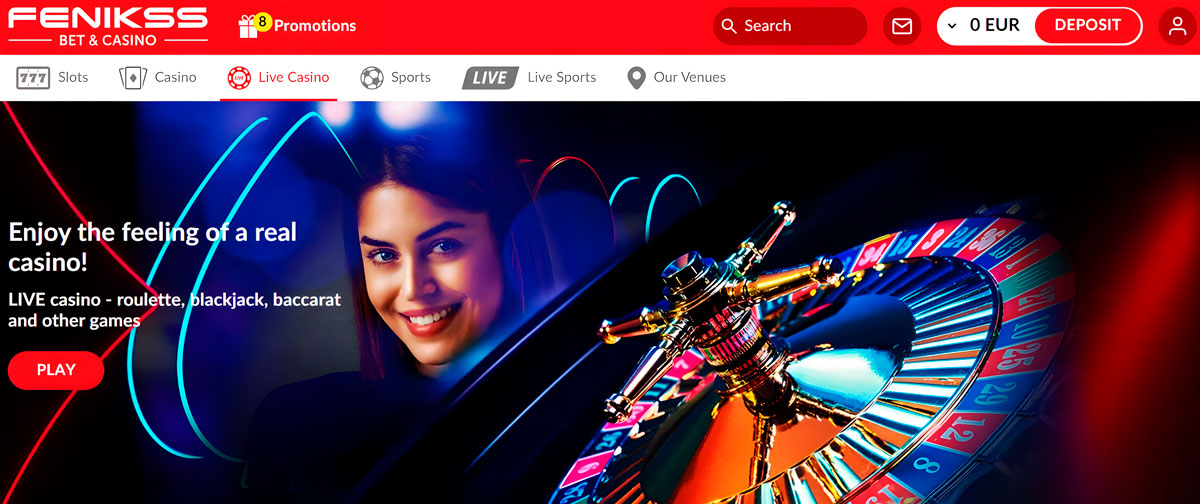 All your winnings go straight to your account. If you want to cash out, visit the "EXPAYMENT" section. Depending on the amount, you might get your winnings immediately or within one business day. If you hit a big win, over 14 300.00 EUR, it may take up to 30 days and possibly come in two installments.
📢 Just a heads-up: If your gambling winnings exceed 3,000 EUR, brace yourself for some income tax. Don't say we didn't warn you!
If you find yourself with complaints about the game during or after playing, don't stew in silence! You can file a complaint within 30 days of the incident by emailing [email protected] or calling the customer service center at +371 67301090. Your complaint should be considered within 3 working days, and Fenikss promises to respond personally.
Strategies and Safety ⚔️
When it comes to winning big, of course, Lady Luck plays a vital role. 🎰 But hey, a bit of strategy never hurt anybody. The first thing to consider is game selection. Each game has a different house edge, and a bit of research on your part can point you to games that might just swing the odds slightly in your favor.
Also, while we're all for jumping in headfirst, it might be a good idea to take some time to understand the rules of the game. Many online casinos (Fenikss included) offer free demos of their games. Trust us, a little practice can go a long way! 🏋️‍♂️
Now, for those of you who prefer gaming on the go, the casino has you covered with a pretty solid mobile platform. It's virtually the same as the desktop version, so you can enjoy your favorite games no matter where you are. 🌍
But let's not forget one of the most important aspects of online gaming: playing responsibly. Fenikss Casino advocates for this, and so do we. 🛡️ So, here are some tips we've gathered:
Budget wisely: Having a set limit for each gaming session is essential to keep your finances in check.
Take regular breaks: Remember, too much of anything can be harmful, even if it's as fun as casino games.
Know when to quit: If you feel that gaming is becoming more of an obsession rather than a leisure activity, don't hesitate to use self-exclusion tools.
In our experience, Fenikss Casino (Live Section) is all about delivering a real-deal casino vibe straight to your device. It's a place where gamers can indulge in an authentic, immersive experience. But always remember: games are meant to be fun, so play smart and play safe! 🍀
Frequently Asked Questions ❔
Conclusion 🔥
First off, we've got to say, their array of live games? 🎲 Pretty impressive. The classics like Roulette, Blackjack, and Baccarat are all there, with plenty of their variations too. Plus, some extra entertaining TV show-inspired games for a bit of a break from the norm. There's truly a game for every kind of player, and that's something we can appreciate. 👍
Getting started was relatively easy, and while the verification process is a bit of a chore (as it is anywhere), we understand that it's necessary for security purposes. And once you're in, navigating the site and choosing a game is pretty straightforward.
Payments and withdrawals were also a breeze. 💸 The site uses a range of secure payment methods, so whether you're an online banking person or a credit card aficionado, you should be well covered. Winnings were credited to our account without a fuss, although keep in mind that larger winnings may take a bit of time to withdraw.
If you do hit a bump along the way, they seem pretty committed to sorting out issues. Their customer service can be reached via email or phone, and they promise to address any complaints within three working days.
Now, is Fenikss Live Casino perfect? Nah, there's no such thing. But our experience was largely positive. It was fun, it was engaging, and it did feel like we were in a real casino, which is pretty much the point of live casino gaming, isn't it? 😉